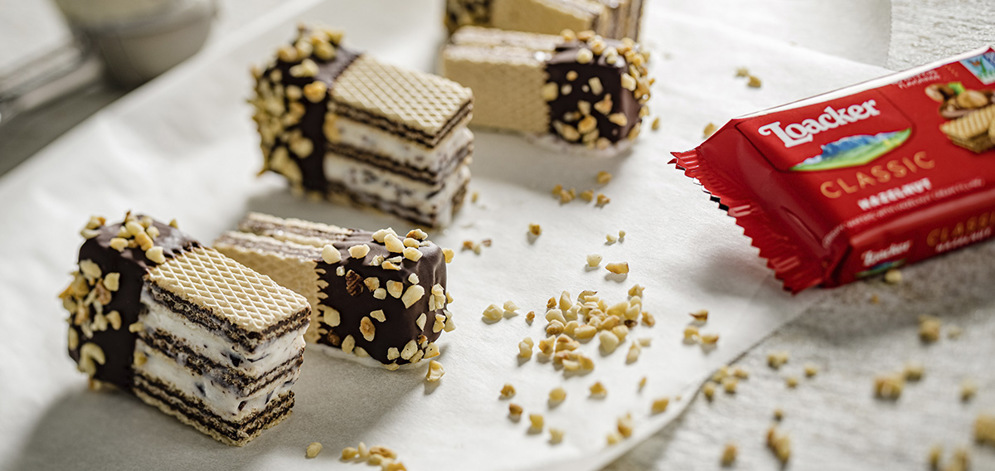 Gelato Sandwich
These gelato wafer sandwiches are great for parties and gatherings.
Ingredients
____

20 tablespoons of Stracciatella gelato (a combination of fior di latte gelato with chocolate chips)

1/2 cup of chocolate for melting

1/4 cup of hazelnut pieces for decorating

Loacker Classic 45g of your choice (they taste delicious with Hazelnut, Chocolate or fruity flavors like Lemon or Coconut)
Preparation
____

Take the Stracciatella gelato out of the freezer and place it in your fridge. Depending on the size and consistency of your gelato container it can take between 10 and 30 minutes for your gelato to soften. Once it is soft, you will be able to spread it on the wafers.

For each sandwich, you'll need three wafer fingers. Spread 1 tablespoon of gelato on two of the wafer cookies. Top with another wafer and gently press to adhere.

Place chocolate in a heatproof bowl and only microwave for 30 seconds at a time, stirring after each time. Once the chocolate is looking almost melted with just a few lumps, don't microwave it again, just stir the chocolate until it is completely smooth.

Now gently dip your wafer sandwich into the chocolate, allowing it to drip off a little over the bowl. Place the sandwich on a cookie sheet and sprinkle some hazelnut pieces over the chocolate.

Put your gelato sandwiches in an airtight container and stash it in your freezer until the gelato is frozen again (about 1 hour).

Right before serving, take your gelato sandwiches out of the freezer and enjoy them right away.

60 mins

Difficulty